When I first visited this shoppe I had to close it... I walked away and then I just had to look again. All the deliciousness that it listed was just so YUMMY!!!
Like this listing here for Rocky Road Bark.
Do You Want To Get Rocked - 1 Pound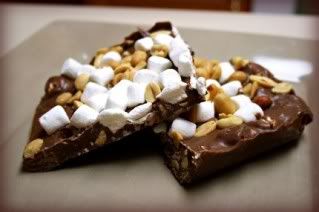 This description was taking directly from the Etsy listing: "If you want to get rocked, then this rocky road bark is just for you. I start with quality milk chocolate and mix in salty peanuts and marshmallows. Once I pour out the candy, I toss on another layer of marshmallows and peanuts. Perfect to take care of the sweet and salty craving."
TO DIE FOR!!! Doesn't it look like it would melt in your mouth. I doubt 1 bite of this would satisfy me.. I would need more and more bites.. Can you tell I am on a diet? So you will have to enjoy this for me. And come back and let us know what you thought. I know you will just love it!!